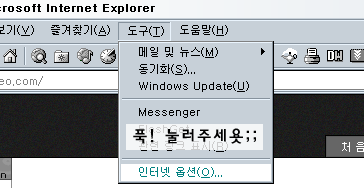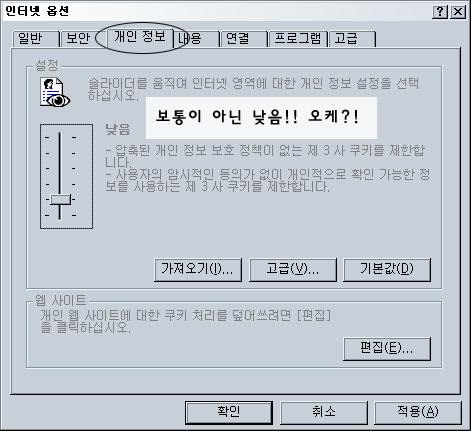 Probably you are using an MS Internet Explorer Version 6.
I recommend you to upgrade your Window Internet Explorer Version from 6 into 7.
Then you would not have that kind of problems. The Version 7 is a much better one.
Or click the "Tool(T)" of the Explorer's menu and then select the "Internet Options (O)"
and click the "Privacy" and select the setting the "LOW" (Please not MEDIUM) and confirm please. Thanks!
로그인이 안될경우
안되신다는 분들 익스 6 쓰시고 계시지 않으신가요?
익스 6.0 은 개인정보 보호때문에 기본적으로 쿠키생성을 많이 안되게 해놓았습니다..
그래서 쿠키를 쓰는 로그인이 잘 안되는 경우가 발생하는거죠.. (쿠키가 안 생기니; 로그인 했는지 안했는지 모르겠죠?)
이 문제는 익스프로러 설정을 바꿔 쿠키생성을 좀더 자유롭게 하면됩니다..
메뉴의 [도구] - [인터넷옵션] 을 누릅니다~
[개인정보] 탭에 가서 설정을 [낮음] 으로 해주세요 ^^ <br>
<br>
이렇게 하면 쿠키가 생성되어 로그인 체크가 잘 될꺼에요 -0- <br>
</p>