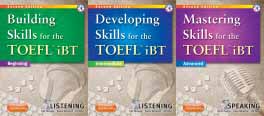 Toefl Listening
Compass Publishing
책소개
Description for the Series:
Building/Developing/Mastering Skills for the TOEFL?

iBT Second Edition is part of a three-level test-preparation series designed to prepare learners of English for the TOEFL?

iBT In this graduated test preparation course,

learners will be able to familiarize themselves with question types found on the TOEFL?

iBT while covering a variety of disciplines.

In addition, learners can practice their skills in all four test areas: reading, listening, speaking, and writing.

Each book provides comprehensive coverage of the designated skill and offers learners extensive practice.
컴퍼스 미디어 출판사 토플 리스닝 교재는 총 세 권으로 구성되어 있고
Building교재가 기초 단계, Developing교재가 중간 단계, Mastering교재가 파트별 마감 단계입니다.
Mastering 교재 (파트별 최고단계) > Developing 교재 (파트별 중간단계) > Building 교재 (파트별 기초단계)